Over the weekend I did something really big.
I mean really, really big.
I turned 30.
Hi Hill. I'm Kyla and I just went over you.
(Lol, get it? That's the worst joke I've had in a while but we're gonna go with it.) :]
The Lead-Up
I've never been someone who was really into birthdays. I've tried to do exciting things some years, but I feel like there are so many chances for let-downs when you set your expectations too high. So I tend to aim low and hope for the best. I know, Debbie Downer. Lol.
The night before, Reese and I went to a gala, so his parents had the kiddos. We got home at a reasonable hour (after a very irritating valet debacle, which is why we prefer to park ourselves…but I digress), and went straight to bed. Mainly because we had already missed Friends on TV and there wasn't a good reason to stay up any later.
Recipe for a Great Day for Kyla…and Then the Fall
I slept through the night, which is a rarity with two small kiddos, and woke up at 6:24 a.m. because I am an old lady and my body refuses to allow me to sleep late. But I'm a mom and anything more than six hours of uninterrupted sleep is a glorious experience and will leave me feeling very refreshed. 🙂
I got up, cleaned the kitchen (because I'm a crazy person and left dirty dishes in the sink before bed. I HATE doing this, but I was trying to be fun and live a little), and made a promise to never do that to myself again.
Then I made my coffee, got my journal, sat on my big comfy recliner…and ordered wrinkle cream and vitamin C serum.
And I cried a little because I was thirty.
Has anyone else had a mental breakdown when reaching a new decade? No? Just me? Thought so.
Now, I am very aware how absolutely ridiculous I am. I'm married, we have two kiddos, we both have jobs, we have a cozy little house, and lots of great things! But I would have just preferred to carry-on this wonderful life of ours as a 29-year-old. Am I crazy for that? Lol.
"Pull Yourself Together!" – Me (talking to myself)
So next year when September 12 rolls around I've decided to pretend like it is September 13 and just act cool. But I also think 31 will be easier than 30….30 just sounds so scary.
Remember that episode of Friends when it flashes back on everyone's 30th birthday? I think that one was engrained in my head long ago which led to my mini-breakdown.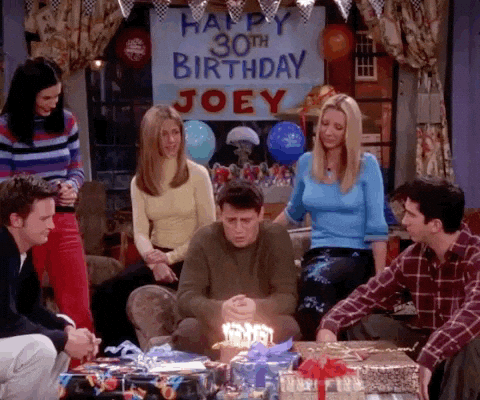 But alas, the a few days have passed and I've carried on just fine. I've noticed a few more aches and pains since I'm officially over the hill, but Reese has been warning me about this for the past three years, so I was ready for it. 🙂